Alex face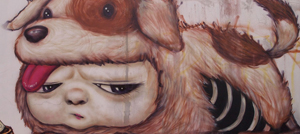 Patcharapol Tangruen, also known as Alex Face, is a Thai street artist, who studied architecture at Bangkok's King Mongktut Institute of Technology. An interest in architecture led Alex Face to explore and wander the streets and alleys of Bangkok for abandoned buildings, buildings that he eventually used as a canvas to develop his street art. His most well known character – a quizzical smoking baby who looks wise beyond his years – was inspired by his two-year-old child.
Ayed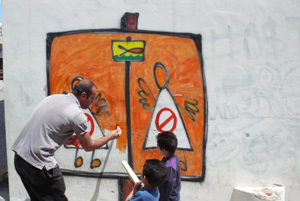 Ayed is a Palestinian street artist who is based in the West Bank. For Ayed street art is important because it enables anyone to share their views with society. He hopes that his work and the art of other street artists will influence the public at large and affect a positive change in his community.
Darbotz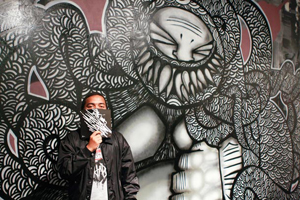 Darbotz is an Indonesian street artist whose art reflects the chaos of life in Jakarta. With the music of Wu Tang Clan, NWA, and A Tribe Called Quest as his inspiration, Darbotz created his most well known character: the cumi (squid). The squid represents his response to the tough demands of existence in the world's twelfth largest city. Darbotz has collaborated with companies like Nike, Google Chrome and Density, among others.
Great Bates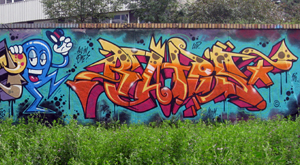 Great Bates is a street art team based out of Copenhagen, Denmark. Great's tags dominate walls and evoke an old school style, while Bates' individual work consists more of sharp, swooping characters. Great and Bates have been painting together since 1986 and have beautified walls around the world in Africa, England, Italy, Japan, Mexico, New Zealand, Norway, Turkey and the United States, among other places.
Killer Gerbil and Zero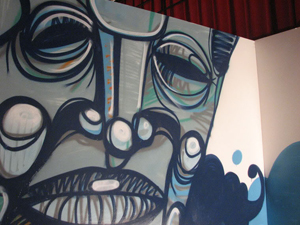 Visual artist Luthfi Mustafah is a Singapore-based street artist, who often works in conjunction with fellow artist Zero. Inspired by his pet gerbils, Mustafah has been creating his infamous Killer Gerbil character since 2003. The character acts as an alter ego for the artist, who views himself as a street rat on a mission to uplift and beautify empty spaces with colors and forms.
Mars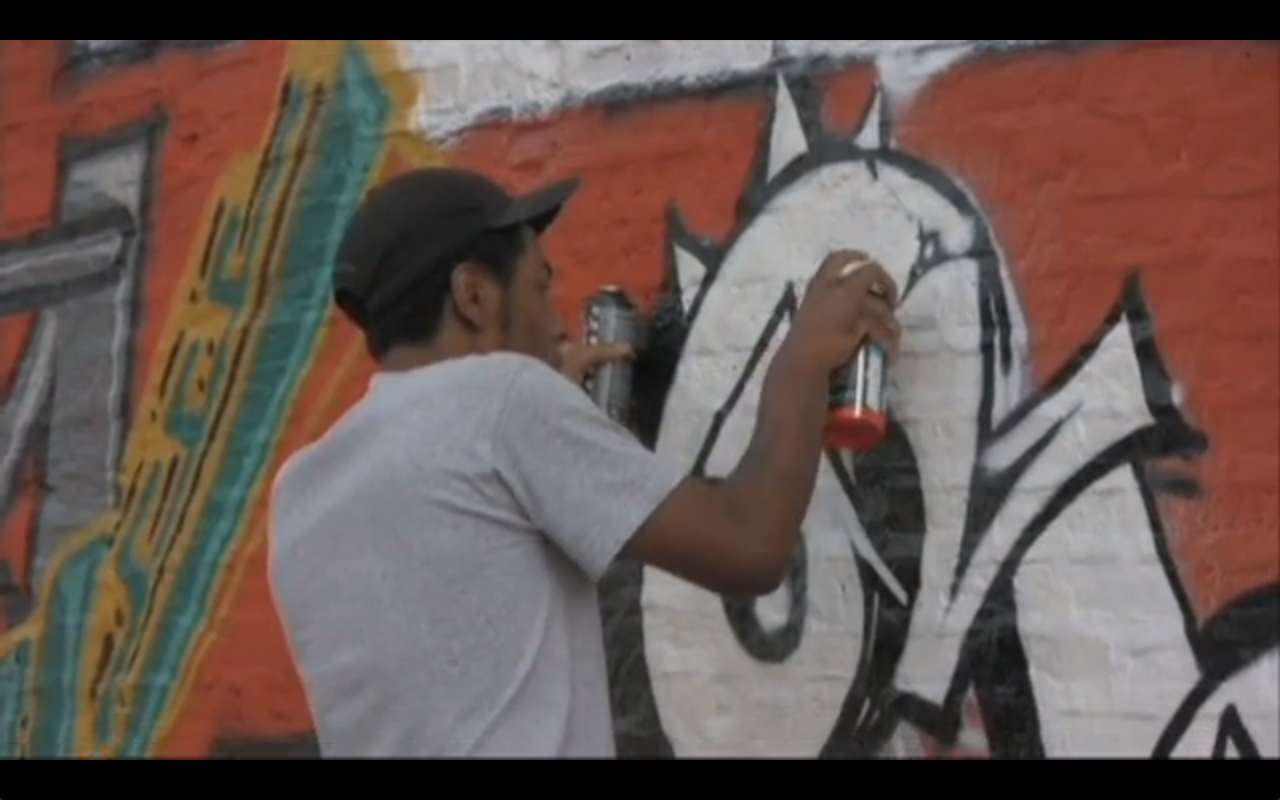 Mars is a Chicago-based street artist in the United States. Graffiti is an addiction for Mars, who got into the scene as a teenager because his cousin was a writer. For Mars, getting up just feels good. While his graffiti used to be about gaining fame and notoriety, recently, his work has been evolving into a more personal and introspective process for this up-and-coming street artist.
Muhnned Alazzh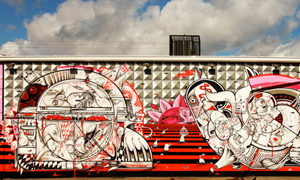 Muhnned Alazzh is a Palestinian street artist whose main influence is the slain Palestinian caricaturist Naji Alali. Muhnned was drawn to street art because he wanted as many people as possible to see his work. As a result, Muhnned's art is designed for the streets and is focused on the common man. Through his work, Alazzh hopes to eventually undermine the dominance of traditional art exhibitions.
Sloke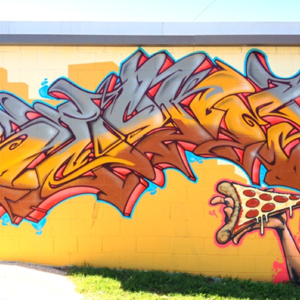 Sloke is a street artist who lives in Austin, TX. As a kid, Sloke grew up with an interest in drawing. When he saw the colorful graffiti being done on subway cars, he knew that that was what he wanted to do. For Sloke, graffiti saved his life by giving him a direction and focus.
Thor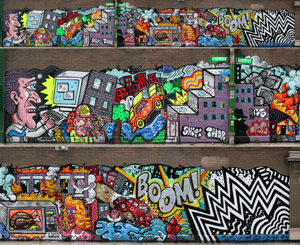 Thor is a Chicago-based street artist. Thor's work ruminates on the wrongheadedness of American society with its focus on materialism and consumerism in the face of worldwide poverty, hunger and disease. Thor lives in the Illinois countryside where he supports his family with his own livestock, vegetables, etc.
Vexta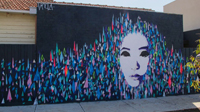 Vexta is a prominent Melbourne street artist who is known mostly for human portraitures. Vexta moved from Sydney to Melbourne where she was inspired by the stencil art of artists like Diux, Optic, Sync and Ha-Ha, among others. In 2005 Vexta was featured in the documentary Rash, a film which explores the cultural value of street art in Melbourne.
Xeme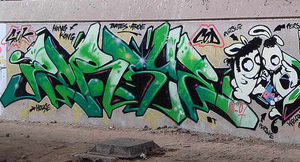 Xeme is a street artist based in Hong Kong where graffiti is seen more as a trend than an art form. Another unique complexity involved with street art in Hong Kong revolves around the construction boom. Many of the hall of fames, walls and areas where graffiti was allowed are disappearing as a result of the continual expansion of the city.